Security, CCTV,
Access Control.
Quatrix responds to the challenges of its
customers through its 30 years of innovation
and deep industrial knowledge.
Integrated Security Systems
For specific area visibility, restricted access
and smartphone app/remote viewing.
Cameras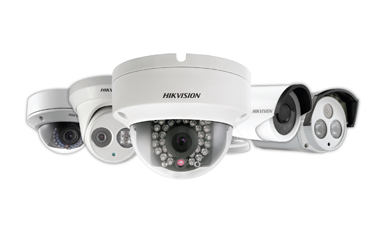 Cameras can be dome or bullet shaped, motorized or PTZ (Pan Tilt Zoom). Dome can give broader area images whereas bullet will focus on a a smaller, specific area but the megapixel ability improves every season to give better, clearer images from all cameras.
With IP CCTV systems, cameras work as an appliance on an IP (computer) network and images can be stored and managed from remote locations away from the local camera site.
Analogue cameras perform well across a variety of lighting conditions and manage motion well. Requiring virtually no maintenance they have a long track record of reliability. However, because signals are transmitted along a coaxial cable, the same as analogue TV broadcast, their image quality is limited.
QUATRIX can help you choose the right camera for the right position and analogue cameras can be used alongside IP and Megapixel cameras to enhance any security system. Call us today to discuss your requirements.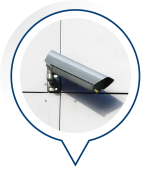 Testimonials
The team at Quatrix provided us with a competitive quote, followed by prompt and professional service.
We felt fully supported during the whole project. The installation team kept us updated as to their progress over the 3 days period during which our 11 CCTV cameras were being installed followed by easy to understand training once installation was completed.
We highly recommend Quatrix for their competitiveness in price, prompt, professional, friendly and flexible service.
11 CCTV cameras
Wentworth Street, Greenacre
Quatrix did a great job, and I have to say the picture quality and capabilities of the equipment exceed my expectations.
I am very happy with the outcome and the professional approach of your team that completed our fit out.
Thanks for arranging everything, the boys have done a great job. Very courteous and professional.
20 CCTV cameras plus 2 lift cameras
Pacific Parade, Dee Why
The equipment has all been installed and we are very pleased with the result.
Quatrix team did a superb job. They were particular where conduit was required to be placed and considered every angle
It was a pleasure to have them on site and their attention to the work was exceptional. First class.
CCTV System & Keypad Video Intercom
Upper Fairfax, Mosman
Thanks to the team at Quatrix for their responsive, courteous and prompt service throughout our security system upgrade and CCTV installation.
Their team members, from back of house admin team, to site managers to front-line installers and electricians, all gave tremendous service and we can't thank them enough.
Video Intercom, Access Control & CCTV
Bland St, Ashfield