QUATRIX aim to provide high quality service and reliable products with warranty and local supplier support. Our customer service team give regular updates on the progress of work requested and again once completed.
These elements should provide a smooth working relationship for all our customers.
See some testimonials from our many satisfied customers;

"Quatrix presented a comprehensive and thorough assessment of our security needs for the building.
Jeff, and his team were always available to answer our questions, and any concerns we had with the installation.
The whole process was efficient, and all the residents are extremely happy with the integrated systems.
I would certainly recommend Quatrix, and wouldn't hesitate using them again in the future!"
-Adam, Strata Chairman, Bondi
Dr Madison Harper, EC for Unit block in Vaucluse
Click on the video above to hear Madison's testimonial of the video intercom and CCTV upgrade at their block.

"Thanks to the team at Quatrix for their responsive, courteous and prompt service throughout our recent security system upgrade and CCTV installation.
Their team members, from back of house admin team, to site managers to front-line installers and electricians, all gave tremendous service and we can't thank them enough."

-Justin, Ashfield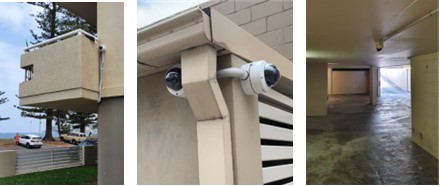 "We recently had an 8 camera CCTV security system installed by Quatrix and what a great decision that was.
From the quality of the cameras that were installed, to the professionalism of the technicians, who obviously take great pride in their work, supported by a courteous and helpful sales and admin team, its easy for me to recommend Quatrix as a one stop shop when you're looking for a security/communications installation company.
Thank you for a job well done."
Conrad, Manly
How was
your

QUATRIX experience?
Leave us a review
Please click on the link to leave us a comment on your service or installation experience with Quatrix.
Our team are working hard to deliver their best results and your time to review this service is very much appreciated.