We install Digital TV antennas
and additional outlets
Quatrix technical experts cover all of Sydney Metro area
and can trace through antenna systems to locate faults
and signal breaks. Let us assess your system and provide
you with clear, crisp sound and images.
For the Home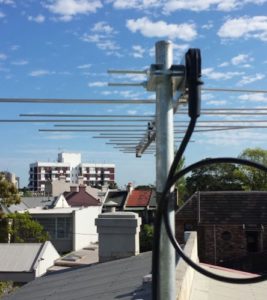 Quatrix offer a complete range of antenna installation services for your home including;
• Solutions for Reception Problems
• Digital TV Antenna Installation & Upgrades
• Additional TV Outlets
• System audits
• Building cabling and new cabling
• Foxtel IQ backbone installation
With upgraded Digital TV reception, as well as having a more reliable signal, you will also enjoy crisper, clearer sound and images and new interactive features like television guides and schedules streamed straight to your television set.
We can;
Carry out a site survey to understand your present and future TV needs.
Measure current TV signals available and choose the best antenna and equipment for you to improve that signal.
Supply and install digital TV antennas and distribution equipment to suit your buildings needs.
All new installs are guaranteed for 3 years, parts and labour. *Terms and conditions apply.
Call us on 1300 659 939 to discuss your requirements and we can arrange for a TV engineer to come out and assess your building.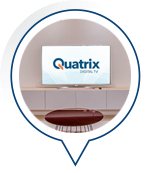 Testimonials
My thanks to Quatrix for a job well done with the new replacement antenna at my house.
Previously troublesome picture is now entirely satisfactory and installation neat and tidy.
Domestic antenna service
Bexley North, Sydney
The team at Quatrix have provided a valuable, reliable and friendly TV service to all residents at our large Aged Care facility for over 12 years.
We look forward to working with Quatrix well into the future.
Carrington Care Retirement Village
Camden, Sydney