Scalable and future-proof.
Quatrix can set up your
communications systems
for improved connectivity
Offering data consultancy and advisory services,
Quatrix can design and install a tailored data cable
solution to give you solid & reliable data/phone connections.
Data & Telephone
Data/Telephone


We provide data, telephone and broadband solutions that will improve the connectivity of your buildings from the MDF upwards. From additional connections to fault finding on existing systems we can set up your communications systems for improved connectivity.
Data Cabling Testing in Sydney


If your business relies on a fast, reliable data system, then you need to make sure that your technology and cabling can cope with the latest data speeds and innovations.

As a part of our data consultancy and advisory services, we can perform data cabling testing on your entire technology infrastructure to ensure that your business is receiving the fastest and most reliable communications and data services as well as being scalable and future-proof.

Based on our findings, we can also recommend, design and install a tailored data cable solution to ensure that all of your data and communications needs are met.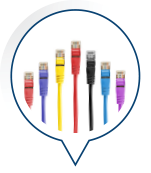 Testimonials
Quatrix helped me get a project finished for a client that I was needing to have done fast.
The guys that came to site – from the look and quote, to the installers were professional and sorted my concerns straight away.
I would like to thank them for their great service; from the first contact phone call to the final installation.
I would highly recommend this company …. Thanks guys…!!"
Professional, Great service, Highly recommended
Bondi
I contacted Quatrix on line and received a prompt response, given plenty of information and advice, and even more impressive was the fact that they were willing to give me a price on a best case / worst case scenario with no added on "extras".
Their workmanship and customer service are to be commended."
Commended workmanship and customer service
Eaglevale, Sydney