Get connected with quality,
reliable intercom systems
Quatrix can maintain & install intercoms
for single residency systems right up to
multi-storey, multi-site apartment complexes
Audio Intercom Handsets
Audio Intercom handsets – choose from traditional style phone handset or compact handsfree styles.
Both types of audio handsets will give you the ability to speak to your visitors and release any door locks that are connected to the intercom system – garage or pedestrian and will also enable lift access as well.
Audio speaker modules have been developing and improving over the last few years to give better sound and also eliminate background noise often experienced at the Entry Panel.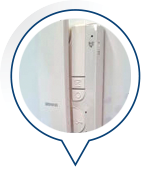 Testimonials
I would just like to say how happy we are with the new intercom system. Not only that but the installation went without a hitch.
Your team has been a pleasure to deal with from start to finish with the on site crew being friendly, working efficiently and cleaning up afterwards.
Thank you again for your diligence and professionalism.
Audio intercom for 18 units
Albert Street, Belmore
This company is an absolute pleasure to deal with.
It is very comforting to be able to trust a contractor especially when dealing with Strata related projects.
These guys are approachable, show up on time and most importantly know what they are talking about.
No hesitation in recommending them and giving a 5 star review...
Keypad Audio Intercom for 28 Units
Johnson Street, Chatswood